Personal Assessment for adults
Well it's all about "you", your family and your lifestyle. You may have relatives or children who need some additional help in adjusting their lifestyles or learning new skills. There are Occupational Therapy services provided by your local social care department or NHS, but you may want to use an independent OT like me for impartial advice.
questions ?
"I am not sure what I need to stay independent ?"
"I can't get into the bath any more"
"I am not sure what equipment to buy and how to adapt my home"
"I can no longer get in and out of my chair what are my options?"
"Can you support me back to work, I need some adjustments to do my job again ?"
Whatever your question you can talk it through with me. As an Occupational Therapist I can help you find and choose the right solution that meets your needs whether its advice on equipment for the kitchen or bathroom or adapting your home to meet your needs.
How much will it cost?
This is an important question. I keep costs as low as possible but it would be helpful to discuss your individual needs so that I can give you the best idea about the costs involved. If you live outside of an area I can travel to, I will recommend you to another service or Occupational Therapist.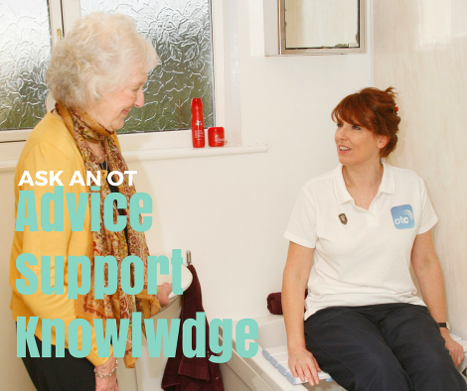 Here's some examples of how I can help you
Bathing Assessments
Stair assessments
Kitchen equipment and independence trainings
Moving and Handling equipment including hoist installation assessment
Ramp and rails advice
Home extensions - advice on individual needs
Postural seating assessments
Return to work assessment